Hailam Toast 1935 is conceptualized as a Kluang-born traditional 'Kopitiam' serving local cuisines with the intention to bring back the Hainanese delicacies that has a relatively long history and popular among Malaysians. We revitalized the traditional Hainanese 'Kopitiam' through a time-tested operating model. The result is a modern 'Kopitiam' with a systematic approach to hygiene in food processing and complete cultural integrity. As the years progressed, Hailam Toast 1935 captivates the hearts of many near and far and has became one of the local 'Kopitiam' icons with the delivery of our flawless service.
At Hailam Toast 1935, we are practicing our core values that are Quality, Service, Cleanliness and Value (QSCV) in delivering our services throughout the years. The use of quality raw materials, control of hygiene, integrated supply chain, and constant innovation by R&D systems are our drivers of growth in the ever-changing food industry. We made it by applying robust quality assurance (QA), operational auditing, timely monitoring and evaluation. Furthermore, we are having our independent central kitchen to ensure the standardization of all the food items. The presence of the following core values in every single action leads us to achieve our mission and move towards our vision. Our mission is to offer Hainanese and local dishes value at a reasonable price by emphasizing the element of hygiene, safety and quality. On the other hand, our vision is to bring culturally integrated Malaysian cuisine accessible globally through innovative and sustainable business models.
The specialties that we offer are mainly the traditional coffee that brings out the taste of Kluang, various kind of toasts, Hainanese style signature dishes and many more local delights. Our traditional toasts are being prepared by using a method that has the same ability to produce the exact taste as it was made by using charcoal stove in ancient times. Hailam Toast 1935 has seen enormous development over the year. Thus, we are aiming to expand our branches in the future to provide our services extensively so that more people can feel the goodness we produce.
Each of our Hailam Toast 1935 outlets is willfully revamped to capture a classic Hainanese concept. It will surely be a snugly and nostalgic spot to dine-in with families, friends, companions and everyone. The mood we created will certainly take you back to the past as a time capsule yet have a touch of present-day emanation. We are here to serve the growing consumer demand for local and authentic delicacies that would bring back nostalgic moments in terms of food and dining experience.
The Stories Behind Our Artistic Collaborations
Hailam Toast 1935 motivation depicts mural art in each stall that is all related to historic places and its atmosphere is to bring local culture through art to the public view. It is because mural arts are a great form of artistic expression which has the ability to create a sense of connection.
Therefore, mural art helps to capture the classic concept of Hailam Toast 1935 relative to our intention. Apart from that, we have this idea to be a part of our local community's efforts by portraying mural art in each of our outlets.
Kluang Outlet's Mural Art
(Wisma Ban Hoe Lee, Kluang)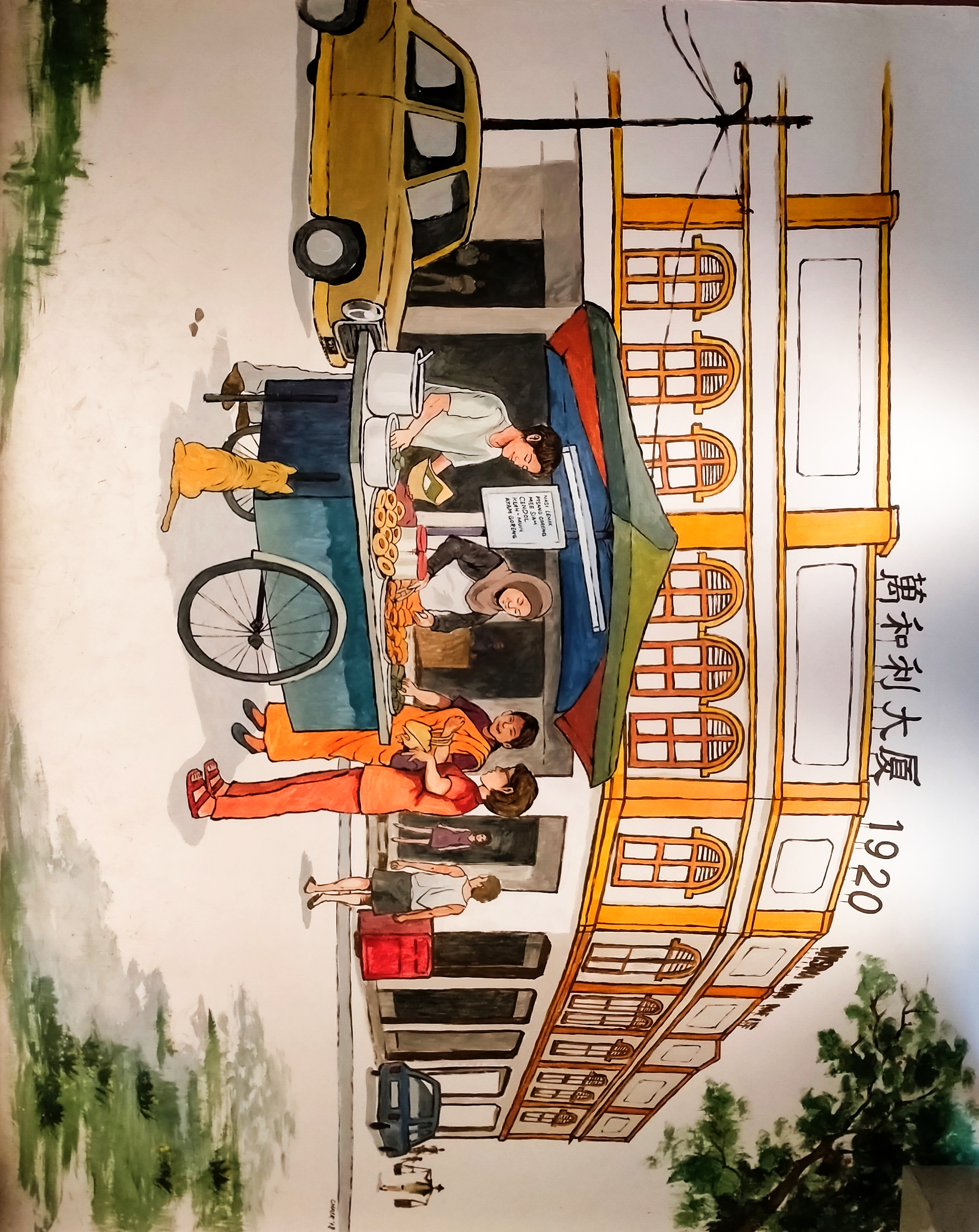 The mural art of our Kluang Hailam Toast 1935 outlet represents a building that illustrates Kluang's Old Town, Wisma Ban Hoe Lee which stands tall at the junction of Man Shenlu and Ismail Street. It was first built in 1920 and belonged to the family of Anxi who doubles sages in Kluang. The presence of that building is very classic and ancient with beige walls, wooden window cases that show its nobility and the magnificence of that atmosphere. Besides, it was also the place where the early southerners and their relatives in China swapped letters and exchanges. The time when people originated in Kluang pass the junction might bring back the nostalgic moments because these golden memories should not be forgotten.
Muar Outlet's Mural Art
(Muar Old Town)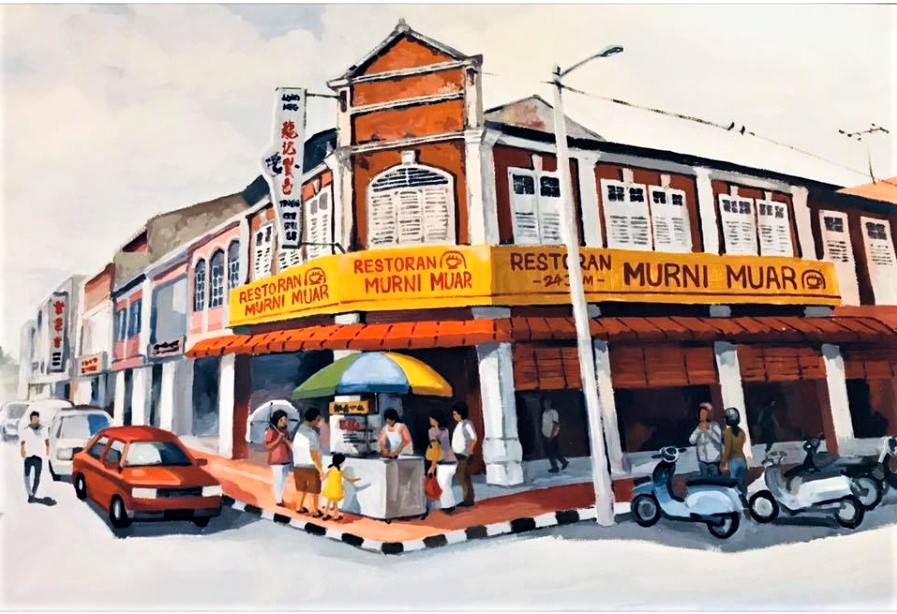 Hailam Toast 1935 Muar outlet's mural art is picturing its local town in the old days. Muar is originally a small town known as the "Imperial City of Johor" that still retains many buildings from the old era. The most famous and time-honored place is Jalan Haji Abu, Muar. The buildings-built years ago are still maintained and used as business centres and mostly are restaurants and roadside food stalls. The population in that area is mostly Chinese which are Fujian and Chaozhou that certainly have a wide variety of food culture. Besides, Jalan Haji Abu was a place for people in Muar to go shopping and enjoy authentic food.
Batu Pahat Outlet's Mural Art
(Jalan Lambak, Kluang)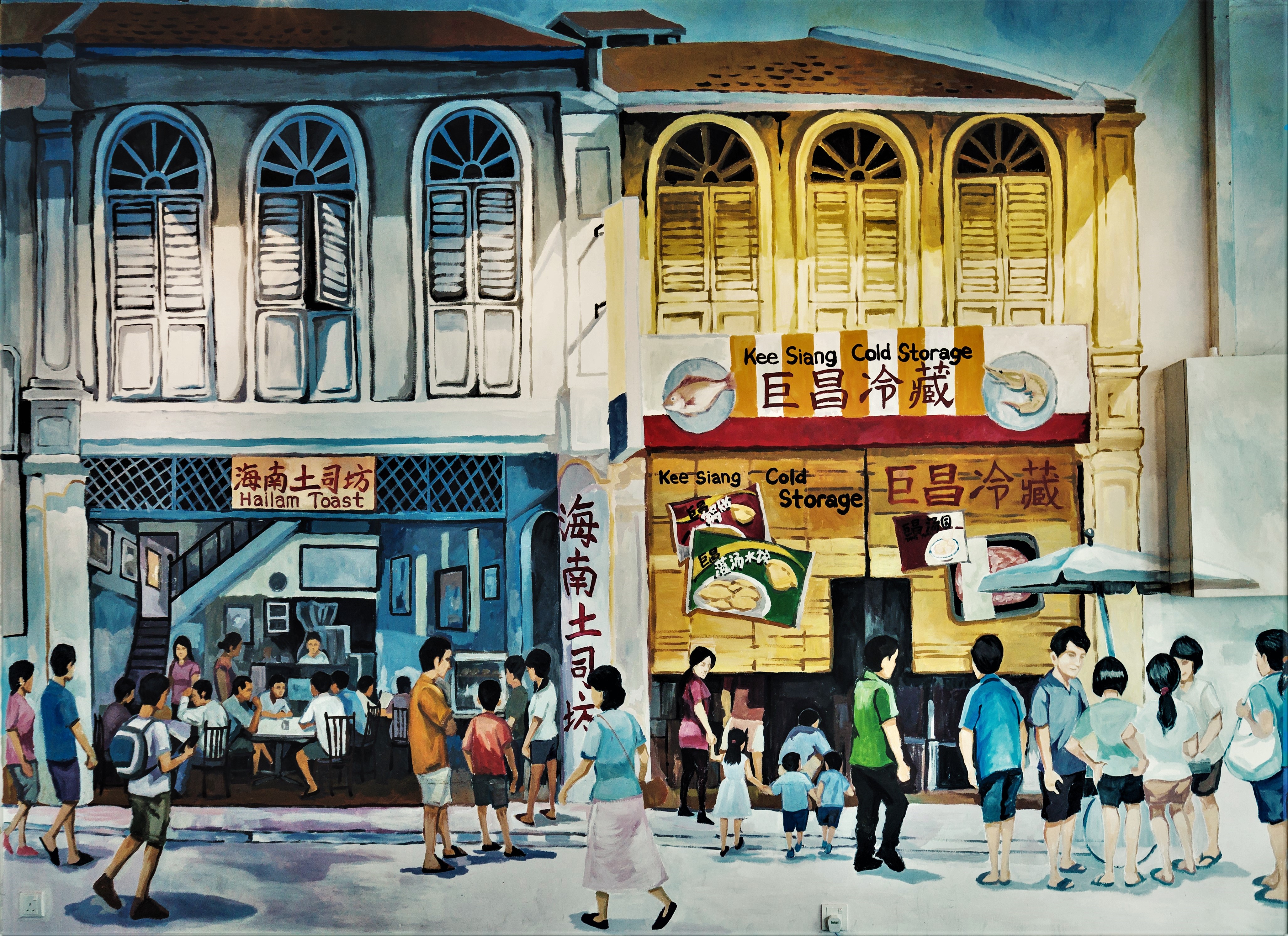 Our mural art in the Batu Pahat outlet is illustrating Jalan Lambak, Kluang. There are 40 double-storey old buildings marked with the constructed year on Jalan Ismail facing the railway and Jalan Lambak facing "Gunung Lambak" in Kluang. The owners of these old buildings were all the foreign Chinese leaders and business leaders of the Kluang Chinese Community. There was the earliest western restaurant in Kluang and the former site of the Chinese Chamber of Commerce. There was also the earliest theatre, a lively night market of hawkers, a variety of old snacks and book renting stalls. Furthermore, Jalan Lambak was the most prosperous business and well-known entertainment centre in Kluang from the 1930s to the 1960s.
Bandar Sunway Outlet's Mural Art
(The Stone Lion History)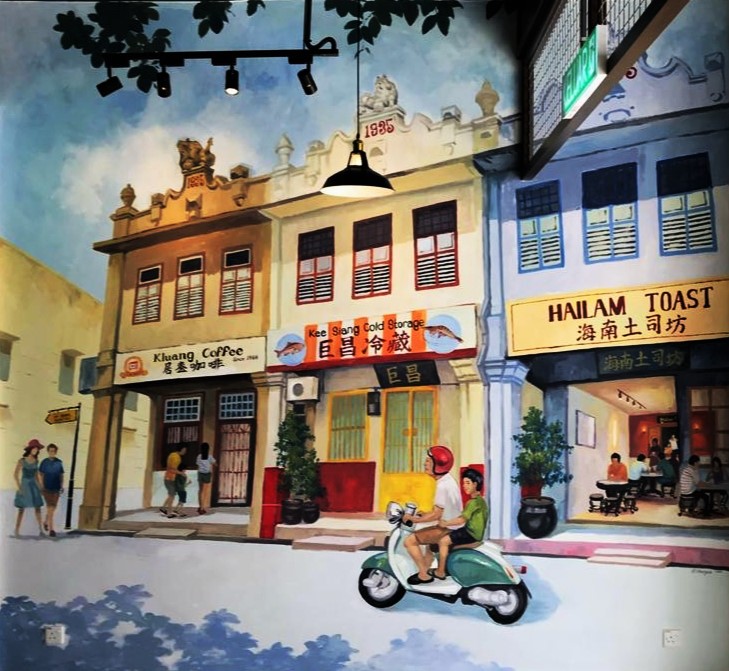 The mural art in Hailam Toast 1935 Bandar Sunway is featuring the century-old building in Kluang that has been dependent on the "stone lion" on top of it. Those buildings were formed in the 1920s and 1930s with special characteristics like a stone lion, construction year and county hall number that has been recognized as the unique architectural aesthetic town and cities in Malaysia. These buildings are preserved as a heritage site by Kluang Municipal Council. Besides, the stone lion has been a sign to flaunt the integration of Chinese and Western cultures, the suppression of evil and for the auspiciousness. These stone lions have witnessed the 100-year history of the Kluang Chinese Society.
Bandar Mahkota Cheras
Outlet's Mural Art
(Jalan Mersing, Kluang)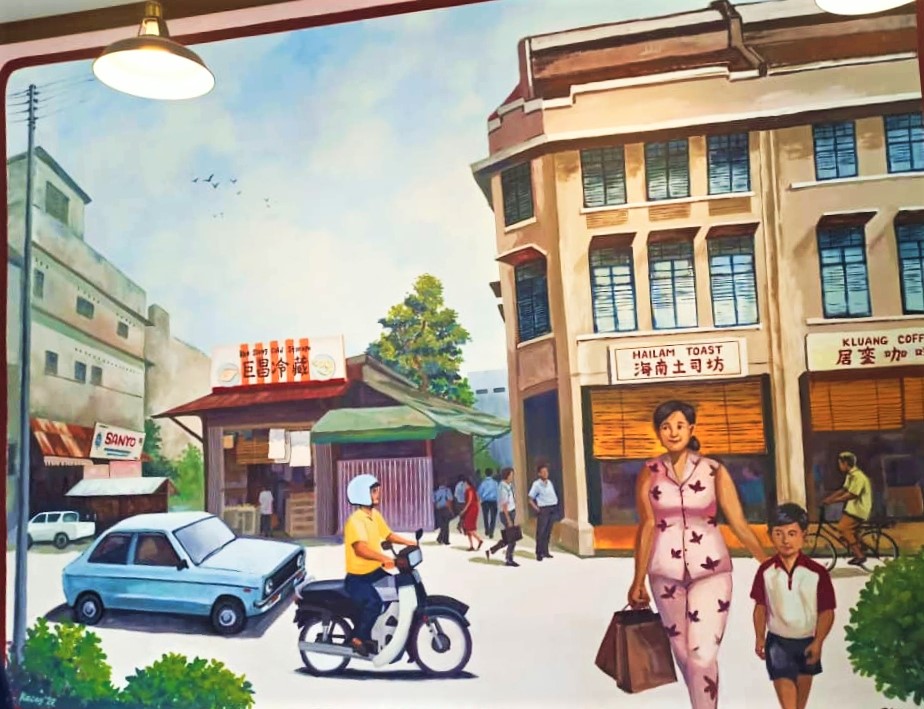 Hailam Toast 1935 in Bandar Mahkota Cheras is spotlighting Jalan Mersing, Kluang. It used to be a place that was always busy and chaotic with locals' day-to-day activities for instance; daily barter businesses like groceries, remedy and entertainment. The disappeared sceneries of Jalan Mersing which has been advanced for betterment is definitely a good old memory for the Kluang community in the '60-'70s social life. Moreover, Kee Siang Cold Storage is one of the famous shops at that time with its strategic location by the opposing view of Jalan Lambak and nearby "Kluang North-South" old train track.